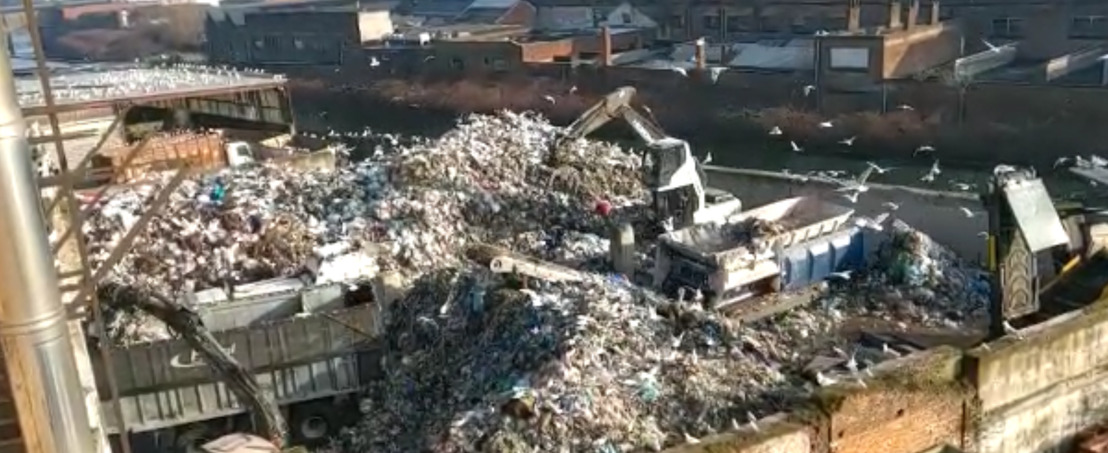 Minister Maron doesn't care about environmental rules
Waste disposal on behalf of Net Brussels at a company that had neither the licence nor the capacity for it. And Net Brussels knew that from the start.
Thursday, 20 April 2023 — Because there were problems with the waste incinerator in Neder-Over-Heembeek, waste was dumped at AA Container in Haren on behalf of Net Brussel. This company has no permit to do so and totally lacks the capacity to carry out this kind of assignment according to the rules. Minister Maron's answer to Hilde Sabbe's (one.brussels-Vooruit) question reveals that Net Brussels knew about this, but that there were no alternatives. "That environmental rules for a green minister are simply pushed aside is unprecedented," Hilde Sabbe said.
From nitrous oxide capsules to waste dumping
Exploding nitrous oxide capsules meant the Neder-Over-Heembeek incinerator was temporarily out of operation. To solve this problem, Net Brussels called on subcontractors to process parts of the waste since January 2023. Net Brussels sent out several applications to about 20 waste treatment companies in the area. Only one company applied: AA Container.
Unsorted, household, organic and residual waste were therefore dumped at that company. Snag under the grass: AA Container does not possess the proper permits for this, which Environment Brussels confirms. The company only had (dubious) permits for sorting construction and demolition waste. AA Container, by the way, has a long history of non-compliance with permits. The balance sheet after 15 years: 12 complaints, 10 formal notices and five PVs.
Bruxelles Environnement has thus been aware of the site's malpractices for some time and has even drawn up several PVs. These seem to have missed the mark. More to the point, it has even become a subcontractor to Net Brussel! Understand who can understand.
Illegal public contract
On 19 April 2023, Hilde Sabbe questioned Minister Maron on the issue. In his reply, Maron explained that there was no choice but to go into business with AA Container. It was either burden the incinerators to such an extent that a total shutdown became inevitable, or illegally dump waste with a company that had neither the licence nor capacity to do so. As no other company responded to Net Brussels' request, it then decided to go for the second option.
Hilde Sabbe: "That a 'green' minister flouts the environmental rules like this is unprecedented. The dumped waste at AA Container bulged over the walls and ended up in the Zenne and the canal. But according to him, necessity breaks the law. I find that scandalous. A government should abide by the rules it sets itself".
Hiding behind subcontractors of subcontractors
Maron further stated that Net Brussels did not have any direct contact with AA Container. It was the subcontractor Solywaste that concluded the cooperation. In other words: Net Brussels working with a subcontractor to in turn find a subcontractor to process the waste. Many (unnecessary) links, making it easy to shift responsibility.
At the end of February, Bruxelles Environnement saw the light and decided to stop working with AA Container. AA Container's owner falls out: "I feel used by Net Brussels and Brussels Environment. No doubt they knew I did not have the necessary permits, but when BRUZZ broke the news, they acted as if their noses were bleeding."
And so the finger-pointing begins. Minister Maron shifts responsibility away from himself. So did Net Brussels, Solywaste and even AA Container. The verdict: they are all guilty.
"Net Brussels knew that AA Container had neither the licence nor capacity to handle this kind of waste. Without embarrassment, it decided to dump waste at AA Container anyway. Unlawfully and without regard to possible environmental consequences. It is time the minister took responsibility for his powers," Hilde Sabbe believes.
Answers in the press and not in parliament
Hilde Sabbe already forwarded her question to the services of the Brussels Parliament 2 months ago, but it did not appear in the Environment Committee until today. "That there is such a backlog and quantity of questions perhaps says something about the policy pursued," she concludes.
Maron made extensive use of that sea of time to communicate to the press that he had since solved the problem. Consequently, most of his answer to Hilde Sabbe's question was read in the press and was not given in the Environment Committee where it was asked. "A lack of respect," Hilde Sabbe feels. "Besides, it is not the first time this has happened."
Hilde Sabbe Brussels Parlementslid